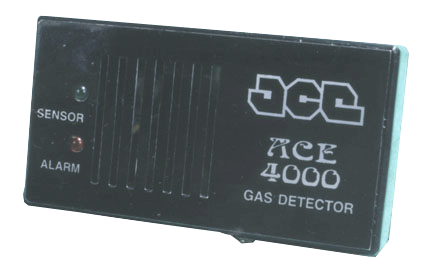 | | |
| --- | --- |
| | Introduction/Application |
The Model ACE 4000 is a compact On-Line / Portable Gas Detector which can be used for various gases such as LPG, CNG, Methane, Hydrocarbons & other Combustible gases. The On-Line unit can be wall mounted at locations depending on the type of gas being detected (the detector is mounted at floor level in case of LPG and below the ceiling in case of CNG)

The unit gives an audio visual alarm in case of any leak. It can be mounted on the dashboard of vehicles where as the sensor can be remote mounted close to the CNG tank in the boot of the car.

| | |
| --- | --- |
| | Power Supply |
230V AC (with adaptor) / 12V DC
| | |
| --- | --- |
| | Sensor Mounting |
Inbuilt or Optional remote mounting head with cable
| | |
| --- | --- |
| | Sensor Type |
Semi conductor with high sensitivity to the specific gas and no false alarms
| | |
| --- | --- |
| | Alarms |
Red Led with 80 db Buzzer in case of gas leak. Green Led glows if the sensor is okay
| | |
| --- | --- |
| | Switch |
| | |
| --- | --- |
| | Enclosure |
ABS with wall mounting facility